Make change happen with your voice. Get informed. Tell your friends. Write letters to our legislators.
Advocacy comes in many shapes and sizes.  You advocate when you wear a ribbon to support a local cause or initiative, when you speak on behalf of a policy which can enhance your community's wellness in front of your City Council, when you participate 'on the hill' in Des Moines to educate legislators on a need or issue, or even when you wear your Live United T-Shirt!
Communities are stronger when every individual and family, regardless of race or socioeconomic status, is financially stable and has the opportunity for economic mobility. United Way of Clinton County, Iowa advocacy agenda is aligned with United Ways of Iowa in order to amplify our messaging. 
UWCCI advocacy work entails:
Developing relationships with elected officials from both parties at all levels of government.
Sharing what we have learned from our initiatives and heard within the community.
Focusing on where we align with others and working with allies to collectively drive change
Education
Support state investment of $500,000 in Iowa Reading Corps to add an additional 40 members per year to serve an additional 700 students per year. 
Support poverty and English language learner weighting in the school funding formula to help low-income students reach their full academic potential and help stem the decline in academic success rates among these populations. 
Support expansion of the child and dependent care and early childhood development tax credits to allow more Iowans to benefit from these programs.
Financial Stability
Support efforts to end the Childcare Cliff Effect by addressing the entry point and exit tiers for the Childcare Assistance Program. 
Support the recommendations of the SNAP Employment & Training Workgroup to increase engagement with the federal Supplemental Nutrition Assistance Program Employment & Training program (SNAP E&T). 
Maintain current investments in adult basic education, PACE programs, pathway navigators, industry sector partnerships and GAP tuition assistance at $12.5 million and expand PACE programs to include apprenticeships and other work-based learning opportunities. 
Support efforts to expand the access of low-income Iowans to affordable housing.
Health
Support efforts of the Coalition to Advance Mental Health in Iowa for Kids (CAMHI4Kids) to fund the Children's Behavioral Health System established in 2018 via HF 690. 
Support sales tax exemption for Iowa Food Banks.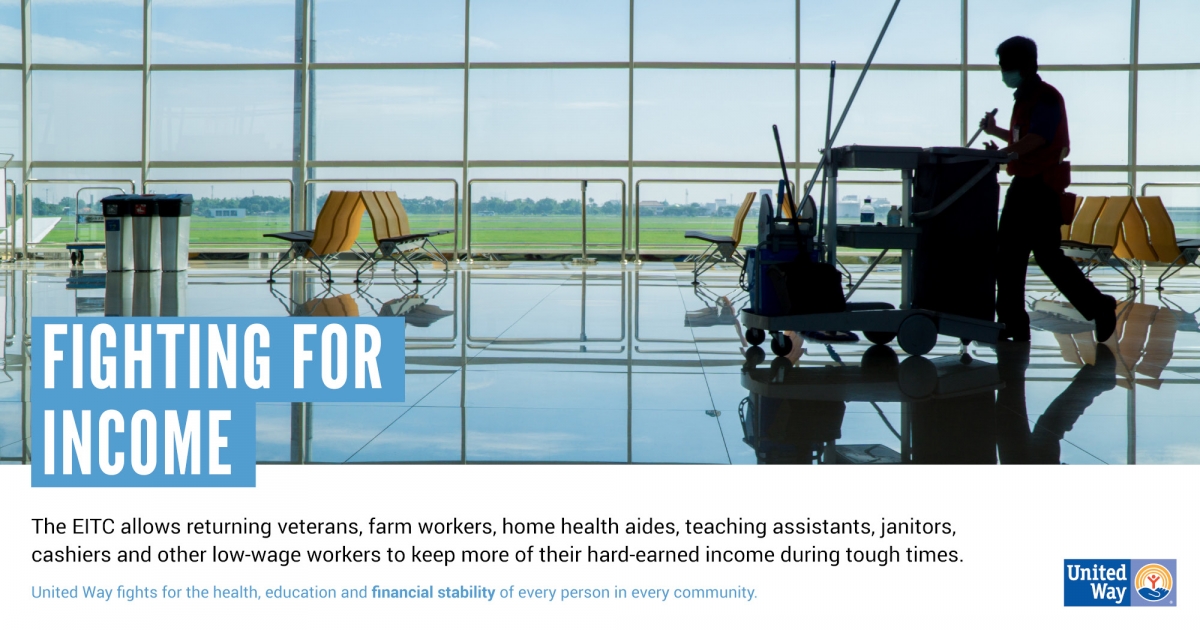 For low- and moderate-income Americans, supports like the Earned Income Tax Credit and Child Tax Credit and programs that provide food to children and families are instrumental in helping families cover the basics while encouraging and supporting work. We know EITC works, yet some working Americans are excluded from the powerful, proven impacts of the EITC. In fact, more than 5 million Americans are actually taxed into poverty largely because they are ineligible for the EITC or the EITC is too small. We can change that by raising our voices together. Take action on EITC Awareness Day and ask Congress to expand the EITC. 
We are United Way. We have one life. To live better, we must Live United®.

Click on the links below to learn more about the issues for which we were advocating in 2019: